Now there are growing fears in American business circles that China will retaliate by arresting a US technology executive in China. Cisco Systems downplayed reports it was restricting non-essential travel by employees to China, although it did confirm staff had been emailed about the matter.
Ms Meng is due to appear in a Canadian court on Monday after a hearing on Friday was adjourned. Canadian media quoted a government lawyer saying she had been accused of "conspiracy to defraud multiple financial institutions". She was detained by authorities while in transit in Vancouver on December 1 but news of her arrest did not leak until last week.
The incident has escalated into a serious diplomatic row between China and Canada, which Beijing accused of acting at the behest of the United States, which ordered her extradition. Analysts fear it could trigger a more serious deterioration in US-Sino relations, already on shaky ground due to trade tensions.
The powerful People's Daily newspaper, which is considered a mouthpiece for the ruling Communist Party, said in a prominent editorial on Sunday that her arrest was a "serious infringement of the legitimate rights and interests of a Chinese citizen".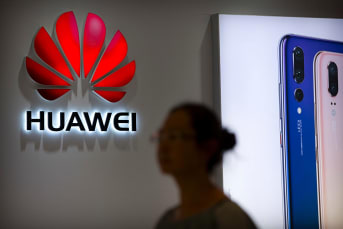 "China will not stir up things but we are not afraid of anything. No-one should underestimate the determination, will and power of China," the editorial said. The newspaper said Ms Meng had been handcuffed and treated like a "felon".
Beijing has stopped short of calling off negotiations with Washington to tackle the sensitive issues of intellectual property theft and cybersecurity. US president Donald Trump has set a 90-day deadline to try and resolve the issues. In the interim, he said Washington would not impose further tariffs on Chinese goods.
However, analysts said Ms Meng's arrest threatened the fragile trade truce reached at last month's G-20 meeting given the executive's high profile in China and Huawei's prominent role in China's aspiration to become a world leader in technology.
The company's fortunes are expected to take another tumble this week with Japan tipped to ban its government departments from purchasing Huawei equipment. This would add one more to the list of countries – including Australia – which have pushed back against the company due to security concerns.
Huawei also reportedly featured in conversations between former Australian prime minister John Howard and China's top foreign affairs official in Beijing late on Friday. Mr Howard led a delegation of senior Australian politicians and business leaders for high-level talks with China's Yang Jiechi.
The positive tone of the meeting was the latest sign of a thaw in Sino-Australian relations, a contrast to China's increasingly tense relationship with Washington.